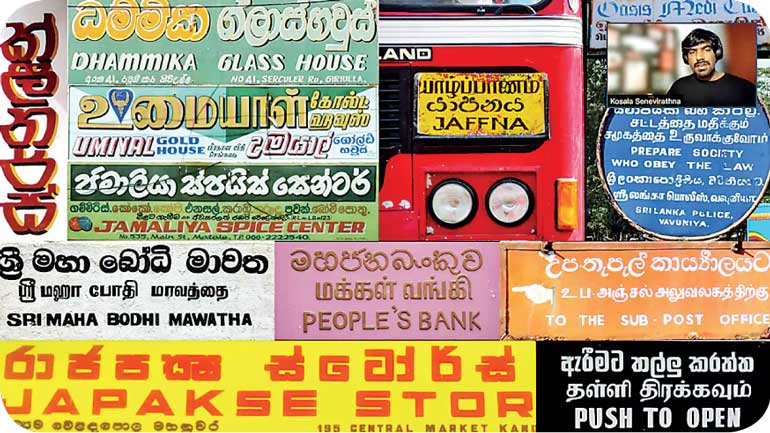 # 30DaysofAkuru, a month-long celebration of lettering embraced by students and professionals
Aims to spark worldwide interest in Sinhala and Tamil typography, highlights the endless typographic and graphic possibilities of the 2 scripts
By Shailendree
Wickrama Adittiya
Emphasis is often placed on the beauty of the spoken language, which in Sri Lanka is mostly a combination of Sinhala, Tamil, and English. However, there is beauty in writing too, with unexpected similarities as well as glaring differences between different languages.
Various techniques are used to arrange the characters, which makes the written language readable and attractive. This is called typography. In Sri Lanka, those interested in typography are likely to be part of Akuru Collective, which is a collective of Sri Lankans interested in anything related to typography. This includes type designers, graphic designers, design educators, and students.
A non-profit organization, Akuru Collective is run by an elected committee that directs the work they do, manages lower-level strategic decisions, and delegates tasks to other members. It provides a platform for Sri Lankan typography enthusiasts to meet and act together towards the common goal of inspiring interest and improving typography standards in the country.
"Our aim is to nurture talent and create an efficient and meaningful service for those interested in typography, writing systems, languages ​​and literature in the South Asian and South East Asian regions. said AkuruCon 2021 event director Akila Lakmal.
He added that Akuru Collective also organizes training sessions, courses, workshops, conferences and other educational programs that cover and relate to the areas of interest of the Collective and promote research and research practice. in typography and writing systems.
Akuru Collective also provides facilities and opportunities for members to engage with national, regional and international communities, conferences and knowledge exchange programs that align with the goals and areas of interest of the Collectives.
They also liaise with national, regional, and global initiatives and standards organizations to develop and advance technical standards for technology, type, and typography, including, but not limited to, Unicode, Opentype, and standards. similar standards.
While Akuru Collective contributes to the art and technique of typography in a number of ways, one of their most anticipated events is AkuruCon.
AkuruCon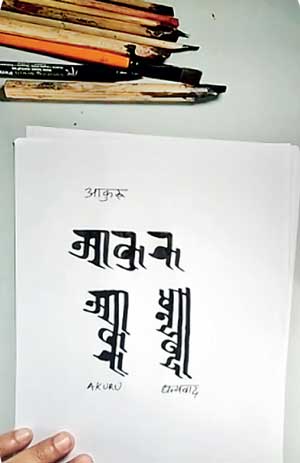 "The very first AkuruCon was held in 2018 in conjunction with the Netherlands Embassy in Sri Lanka to celebrate the 280th anniversary of the introduction of movable type in Sri Lanka," said Malindi Jayathunga, event manager AkuruCon 2021.
"The conference focused on the common history of typography between Sri Lanka and the Netherlands, with presentations of research carried out on the history of printing in Sri Lanka and the contribution of the Dutch to development. of the first Sinhala mobile character, "she continued. , adding that famous Dutch typographer and educator Martin Majoor joined the conference as a guest speaker.
This year AkuruCon was a month-long celebration of Sinhala and Tamil letterforms. "The idea was to recognize Sri Lanka's rich typographic landscape by building a discussion about its present, past and future," Jayathunga said.
Given the COVID-19 pandemic, AkuruCon 2021 differed slightly from previous events. According to Akila Lakmal, Sri Lanka's cultural scene has been hit hard by the pandemic and the lockdown that followed. This did not stop Akuru Collective, however.
"Adapting to the new normal, Akuru Collective has created an interactive virtual space, bringing together all types of individuals to dive into the treasure of typographical knowledge. AkuruCon has organized a series of online events, "Akila Lakmal said.
A multilingual Sri Lanka
The theme of AkuruCon 2021 was 'A Multilingual Sri Lanka' and Akuru Collective claims that this was mainly due to their goal of educating the design community on the similarities and co-evolution of the Sinhala and Tamil type while promoting the use of both scripts in the visual. design process.
"Through this initiative, we will be able to keep the conversation flowing by ensuring that the very essence of human communication is not overlooked in the design," Jayathunga said.
She explained that AkuruCon is known to attract a wide audience of diverse backgrounds, ranging from academics and typography enthusiasts, font developers, graphic designers, professionals in the advertising industry and students.
"This year, we hosted virtual workshops and discussions on topics such as multilingual branding and history in Sinhala and Tamil typography, giving participants the opportunity to better connect with the languages ​​they hold dear. heart, "Jayathunga added.
The month-long event covered various aspects of Sinhala and Tamil typography, with discussions and workshops held every week.
A discussion by Dr Sumanthri Samarawickrama and Pathum Egodawatta as well as Professor Udaya Kumar and Aadarsh ​​Rajan from India focused on the history of typography during the first week. It was titled Paving the Way for Sinhala and Tamil Typography.
The second week looked at the present, with a panel on Multilingual Branding and Communications in Sri Lanka moderated by Leyanvi Mirando. Nisayuru Basnayaka and Chanuka Wijesinghe were the panelists.
The future of typography was discussed in week three, focusing on Unicode. The discussion was led by Dr ST Nandasara, Dhanika Perera, Pathum Egodawatta, Kosala Seneviratna and Janaka Attanayake.
Three workshops were organized during the last week. One was a hands-on workshop in English on Ranjana Lipi calligraphy by Sunita Dangol and Ananda Maharhjan from Nepal.
Tharique Azeez helped AkuruCon 2021 attendees to confidently draw letter shapes during the Taste of Tamil Letterforms workshop and also hosted the Sinhala-Tamil-English logo design workshop with Samadara Ginige and Indika Jayathilaka.
30 days of Akuru
One of the highlights of AkuruCon is 30 Days of Akuru, a much-loved and anticipated segment that is being held for the third time.
According to Akila Lakmal, the month-long celebration of lettering is embraced by both students and professionals. "# 30DaysofAkuru aims to spark worldwide interest in Sinhala and Tamil typography and highlight the endless typographic and graphic possibilities of both scripts," he said.
"The engagement was overwhelming. We had students, academic professionals, researchers, creative and industry professionals who participated in # 30DaysOfAkuru with their creative contributions. We are grateful for their interest in bringing the type to a wider community and beyond, "Akila Lakmal added.
What happens after
The organizers say the next AkuruCon will be in two years, but they have a lot of exciting things planned. "We are currently working on a few projects in collaboration with the Institute of Typography and the WA Silva Museum that we can share with the public in the future," Jayathunga said, adding that they will also introduce an Akuru Collective membership for them. typography enthusiasts.
"For further updates, stay tuned to Colombo Type on social media," she added.